Ukrainian job seekers: Schibsted needs your competence!
Schibsted wants to help Ukrainian refugees who have been forced to flee their country.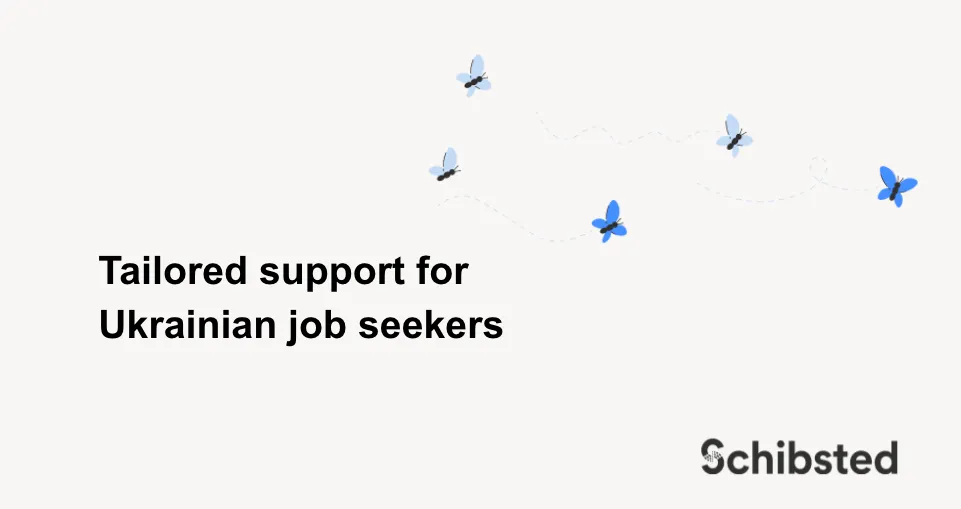 The war in Ukraine has displaced millions of innocent civilians and horrified the world, leaving opportunities for work and development in ruins.
Schibsted have numerous job vacancies in their family of brands and have tailored a special support package to assist Ukrainians wishing to make a fresh start. This package includes:
A one-off "settling in" payment to help get established in society.
A remote contract clause in the employment agreements enables employees to continue working for Schibsted remotely when/if they return to Ukraine (and it is safe to do so).
Fast track for Ukrainian IT Professionals. We prioritise and respond to your application with a match to current openings within tech – (read more and see the job advertisement here). The information is available in both English and Ukrainian.
See our full list of Schibsted vacancies where the Ukrainian support package applies here.
This is not an offer of charity, but rather one of purpose and dignity; providing employment for those in need while helping our organisation address a shortage of available talent. Schibsted have a particular need for tech skills, which they know many well-educated Ukrainian candidates possess.
If you know of any Ukrainian nationals looking for work in countries where Schibsted operates (Norway, Poland, Sweden, Denmark or Finland), please forward this information. Thank you for reading. "We look forward to welcoming new Ukrainian employees to Schibsted very soon."